Financing Cosmetic Surgery in Cartersville, GA
Have you determined that you're a strong candidate for plastic surgery, but are unsure about how to pay for the procedure you desire? Let the team at Reflections Cosmetic Surgery help.
Board-certified plastic surgeon Dr. Justin Gusching is committed to making his safe, effective procedures available to residents of Cartersville, Acworth, Kennesaw, Marietta and surrounding communities in Georgia through convenient financing.
Financing Options for Plastic Surgery with Dr. Justin Gusching
For many people, one of the limiting factors in their decision to undergo any cosmetic surgery procedure is their budget. If you are considering plastic surgery, but aren't quite sure how to pay for the procedure, we can help with convenient financing.
We offer financing plans through PatientFi and CareCredit® which offers convenient monthly payments for cosmetic surgery procedures costing over $1,000. There are no application fees and no down payments required.
Residents of Cartersville, Acworth, Kennesaw, Marietta and surrounding communities in Georgia can trust board-certified plastic surgeon Dr. Justin Gusching for all their plastic surgery and MedSpa needs. We take your financial needs seriously. Contact us today!
PatientFi is a simple way to pay over time for treatments and procedures. With PatientFi, you can get want today, and pay for it over time on a friendly monthly plan.
PatientFi offers excellent benefits, most of all there is no hard credit check. Other companies will do a soft credit check at application then when you accept the loan, you receive a hard hit. Only PatientFi provides no hard credit checks throughout the entire process—so there's no risk to apply or accept a plan.
Here's how it works:
Apply in seconds via mobile phone, tablet, or your computer and get an instant decision
Once you're approved, you'll get a transaction notification and pick your monthly plan PatientFi has options to fit any budget, you can enjoy the convenience of paying over time with no interest* using their promotional financing plans or fixed-rate plans with APRs as low as 6.99%.
Pick your plan and you're done! The whole process is quick, easy, and wallet-friendly. 
Why PatientFi?
You can trust you'll be in good hands. PatientFi is the highest online rate patient financing company.
No hard credit checks ever! You can apply and accept the loan worry-free. Fast & easy application. You can complete the application within seconds. Lowest APRs—as low as 6.99%. No compounding interest.
Flexible zero interest* or fixed-rate plans.
Great customer service—rated 5 stars on google reviews. Friendly monthly plans make it easy to pay over time.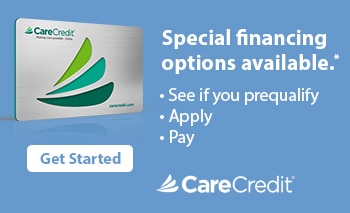 CareCredit health, wellness and beauty credit card
For cosmetic and dermatologic procedure financing
Think of CareCredit as your own health, wellness and beauty credit card.
 Whether it's plastic surgery, facial rejuvenation or a skin care visit, you shouldn't have to worry about how to get the procedures you want. 
That's why we're pleased to accept the CareCredit health, wellness and beauty credit card. 
CareCredit lets you say "Yes" to recommended surgical and non-surgical cosmetic procedures, and pay for them in convenient monthly payments that fit your financial situation.
With special financing options*, you can use your CareCredit card again and again for your cosmetic needs, as well as at 200,000 other healthcare providers, including dentists, optometrists, veterinarians, ophthalmologists and hearing specialists.
It's free and easy to apply and you'll receive a decision immediately. If you're approved, you can schedule your procedures even before you receive your card. 
With more than 21 million accounts opened since CareCredit began nearly 30 years ago, they are the trusted source for healthcare credit cards.
Learn more by visiting www.carecredit.com or contacting our office.
Ready to apply? See if you prequalify then apply online for your CareCredit card today.
We Offer A Complete Range Of Plastic Surgery Services
"It takes heart, commitment, and unending dedication to become an exceptional surgeon. Dr. Justin Gusching has worked hard at developing each of these special qualities."
Dr. Gusching completed his cosmetic surgery fellowship through the American Academy of Cosmetic Surgery (AACS) at Southern Surgical Arts.
He has since been refining his artistic eye and his excellence in cosmetic surgery. 
Read more about Dr. Justin  Gusching